SERVICE-CENTRIC Sales/Fundraising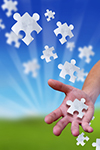 Whether you're a small business or a NP organization, you should have an organized sales plan, with each step designed to help prospective buyers or contributors make the right choice.
We can help you create an easy to follow and productive sales process. Our Service-Centric Sales Plan is available FREE for CQM's who are enrolled in the
Team-Builder Leadership Seminar.

In a Service-Centric Sales Plan: you discover your prospect's needs, desires
and requirements; and then serve them the way they want to be served.

In a Service-Centric Sales Plan: the competitive edge is in the systematic follow-up routines which create "no-pressure" closing opportunities.

In a Service-Centric Sales Plan: personalized marketing activities and referral development create a constant flow of valuable prospects.

QM-APPLIED Sales/Fundraising

Follow these three QM-Applied steps to increase sales or fundraising income. Enterprise Members, can use our FREE Service-Centric Sales Manual to aid in plan design.
Step 1: CREATE QUALITY PRODUCTS OR SERVICES
Nothing adds to competitive advantage like quality products and services.
Our QM Certification Courses will assure your ability to succeed.
Step 2: TRAIN YOUR STAFF TO KEEP YOUR PROMISES
Building a team that does things right for each customer provides a clear sales advantage. We can help you reap the benefits of customer service.
Step 3: GET ORGANIZED AND SELL THROUGH SERVING
Create a plan that's specific to your products and services using the steps outlined in our Service-Centric Sales Manual. Good planning converts prospects to sales.