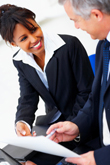 QMI Certified Quality Manager
Mastering the QM concepts for management and leadership can increase your advantage in any profession and enable you to prosper when others are failing.

Successfully completing the three Certified Quality Manager Courses will establish your career path as an emerging professional with skills to set you apart from the competition.

THE 8 ATTRIBUTES OF A QUALITY MANAGER:
1. Keeps the Promise made to each customer with a
Zero Defects Attitude.
2. Models the
Vocational Certainty™ of a trained and experienced person.
3. Diligently plans and budgets resources to produce reliable
Process Quality.
4. Achieves
Administrative Consistency by giving attention to the details.
5. Demonstrates
Executive Credibility through skill and sincerity with people.
6. Resolves to maintain
Personal Authenticity with customers and co-workers.
7. Administers money and all practical matters with
Ethical Dependability.
8. Creates a culture of
Mutual Respect, Accountability and Professionalism.