Retain High-Performers!
Team-Builder Retaining Solution:
Train and Retain High-Performers
with QM Administrative Skills
Click Here for Fees / Enrollment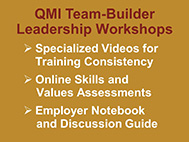 High-performers who are being considered for enterprise leadership, should demonstrate a proven
"psychological ownership"
of the corporate vision and values. It is a key factor that will secure their retention. They should also have the administrative and executive skills to build a positive work culture. When these factors are proven, promotions and leadership transitions tend to be less stressful and actually increase the loyalty and stability of the workforce. When they are presumed or poorly evaluated, change tends to create chaos. If you
hire from the top 25%
of the workforce;
train people to do things right
and have selected high-performers you want to retain and promote; then you should authenticate their leadership skills with the proper training.
Team-Builder Retaining Solution Promise:
Although nothing can guarantee that a high-performer will succeed as a manager and leader, our video-assisted training and authentication process will enable you to add-value to a candidate's professional skills, help retain them and assure a facts-driven decision.
QM Administrative Skills Workshop: How it Works
The best first-step in training is hiring the right people, "trainable" people with the right skills and values. Then, the Team-Builder videos and assessment tools will enable you to conduct an effective training program for your employees with minimal expense and without the disruption of your workplace.
The life-cycle of a successful enterprise is strengthened and extended by recruiting and retaining high-performers; people who are committed to producing quality products and services and delivering reliable customer service responses. Opportunities to add skills and develop ownership of the vision are essential to their productivity and retention. Curriculum Note: The QM Administrative Skills Training is an excerpt of the Quality Manager Certification. It includes videos, readings, practice exams, graded exams, etc. that have been designed specifically to strengthen the management skills of high-performers who are also emerging leaders.
Click Here to Review the Curriculum Description
All training resources are online and are available 24/7 so you can set your own training schedule. Just follow QMI's easy-to-use "click by click" instructions to complete the training assignments. &nbsp Click Here for Examples
Step 1. Choose high-performers. The selection of Employees for this training should be based upon previously proven commitment to your organizations values and work ethic. Completion of this curriculum will enable Employers to more confidently delegate projects and other management responsibilities to emerging leaders. It will simultaneosly give the Employee unique opportunities to "own the values" and the Employer unique opportunities to fully evaluate their long-term potential and retain them. Step 2. Enroll the high-performer(s) and create a schedule to follow each person's progress through the online training with follow-up discussions. Each learner can logon to your secure portal and then follow QMI's easy-to-follow "click by click" instructions to complete the training assignments. Step 3. Using the Employer's Discussion Guide, you should have private discussions with each Employee about his or her training experience, the answers to the online exam questions, etc. as they proceed through the training. This will reveal the employee's attitudes, perceptions, values and the knowledge and skills gained for managing projects. Step 4. If the Employee's responses do NOT meet your expectations, you can provide the necessary corrective action and instructions to help him or her succeed in fulfilling their job description; or help them find a job that more closely fits their skills. Even though an employee may prove to be less than qualified to assume supervisory or leadership positions; if they have proven to deliver reliable customer service responses, they can be a productive team-member and help maintain a stable working environment. Step 5. If you're pleased with the Employee's training responses, you can then confidently and effectively insert them into the specific supervisory or leadership position related to your enterprise.
Click Here to Read Why:
The values and skills for maintaining a strong work ethic and quality standards has become so rare in today's workplace.