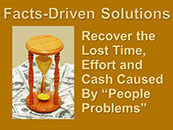 The Center for American Progress
found that businesses spend about one-fifth of an employee's annual salary to replace them - 20% of the annual salary, benefits, etc. This includes the costs of hiring and training a new employee plus productivity losses.
So if you hire an employee; pay them for two months, endure errors, re-work, absenteeism and the eventual termination – you'll also lose profits equal to more than two months of that person's FTE costs.
The
American Management Association
has reported that the average turnover rate is now 14-19%. Turnover can destroy your enterprise and high-performers expect leaders to create a stable working environment with established policies and a commitment to protecting the organization from turnover-related chaos.
A
Journal of Organizational Behavior
study showed that workers with a stronger sense of psychological ownership have higher job satisfaction and organization-based self-esteem. Opportunities to add skills and develop ownership of the vision are essential to their productivity and retention.
We'll Show You How to Effectively Retain Your Team - and DEVELOP LEADERS!


Train and Retain Future Leaders!
Use Our Videos and HR Tools
An article by
Entrepreneur.com
indicated that high-performers are 116% more likely to stay with their current company than low performers. They are also the best prospects for leadership if given the opportunity to develop their management skills.
Team-Builder Retaining Solution:
Train and Retain High-Performers
with QM Project Management Skills
Click Here for Course Details
Team-Builder Retaining Solution:
Train and Retain High-Performers
with QM Administrative Skills
Click Here for Course Details